How to enjoy your game driving experience!
Posted on Thu September 14, 2023.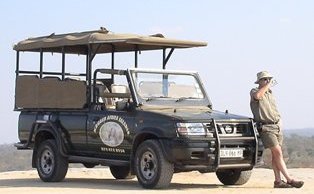 Although some visitors to the Wild Frontier and Kruger National Park come here to relax and just hang around to enjoy a pleasant time with friends and family, most people come here to experience game drives and take lots of photos to add to their "wild life" albums. There are a few things that anyone that has experience in these activities would tell you to take note of. I will try and list a few of the things I've experienced to be important and I would welcome any addition to this list.The first decision to take is if you want to do the self drive or guided open vehicle safari. There are obvious pros and cons to both. While the self drive gives you much greater freedom to go where you want and stay at a sighting for as long as you want, you might be forced to fall in with the preferences of the group when you do the guided trip.
I do however realize that for some, like my friend John, it might mean more freedom to go with the group, since his wife or mother in law (or both) will be kept off his neck by the guide. Since Ann's father have years ago mastered the art of ignorance everything comes down on John. The guided trip do serve a different problem to John and his family. Since nobody wants to stay at home with Johnny (5) and Anny (3) they have to be entertained on all game viewing trips. Believe me, whatever John's wife and mother in law is unhappy about in John's doings is nothing compared to Anny's unhappiness about the fact that Johnny lives "in her space". Animal sightings create a very short very welcome breather, but the more frequent they see animals the sooner they get used to it and the shorter the breaks seem to get between the fights.To have the best of the day one should start early! 
When you organised the guided safari, it is always better to do it privately. It might cost you a bit more if you are a small group or family. The vehicles of the private operators can handle 10 people. With ten people on the vehicle you should know that three of them will be sitting in the middle. It's a bad spot, even for two lovebirds. The one in the middle will often be used as a shelf for cameras and binoculars. It is far better to have the seat in the middle open. That leaves space for accessories. The guide/driver will often prefer to have the front passenger seat open for stuff and like books, binoculars and snack boxes. Everybody should be happy with no more than six guests on the vehicle. There are ways to do this without paying the full fair for the "absent person".
Returning guests almost always prefer to have the same guide when they come back on a repeat visit. If the guy or girl made you happy it's fine, but I have often found that guides do have their favorite routes and to experience something different, it is often necessary to have a different approach. It will therefore be better to make use of an operator with more than one vehicle and more than one guide. That way you can make sure you get the benefit of a good fare by booking it all with the same operator without denying your group the opportunity of diversity.
The larger "Kruger" vehicle : The cheapest guided drive you can go on is the time limited ones done with the Kruger vehicles and guides. I know many of them and they all have their own style and many guests enjoy their humor and knowledge. Very pleasant guys. They are unfortunately in a much less of a position to make their own decisions on a drive. While the private operators can decide to extend the activity with hours if the group do not want to leave the scene of a lion kill, the guys from Kruger, true to any government organization have to be back for their morning tea, roll call or whatever. The vehicles that Kruger use is quite large and can often take as many as between 20 and 30 people. Now you could end up with Johnny between you and the old Chinese lady and Anny on your other side. A waste of good money and time. It is not cheap to get here and you sacrifice precious leave to be here. Do not waste it by being penny wise.
When you do the "self drive" your vehicle of choice should be one that has more height than a Chevy Spark. A micro bus being it anything from a German, Japanese or a Korean still is the best vehicle for this. City folk often believe that a dirt road demands a four by four vehicle. All public roads, tarred or not, inside Kruger is in perfect condition for the Uno you drove as a student. No need for anything built for off road conditions if you plan to do the legal thing and stick to the public roads. The same rule about extra seating space applies here. John enjoys the extra space for the kids to sleep on and grandpa can sit and enjoy an undetected snooze in the very back seat.

Probably the most important stuff to remember is... what to take with. If you go on a guided trip it could be expected that there will be blankets. It might be chilly in the early morning and its better to make sure your guide do cater for this. This is one of the events where "the early bird"-rule applies. The earlier the better. If your visit coincides with a popular time such as Easter Weekend or some time during the December holidays you can expect to be waiting in a long que to enter the gate. This is another thing why the guided trip is better. If your operator is well established he will enjoy special privileges. No need for him to wait in line. Other people in the que might get annoyed by this, but they should realise that this guy enters the park every single day and his guests are booked in advance and payment has been made often weeks in advance. They only allow a certain amount of cars per day and it might well be that if you arrive late, you will be denied access. Still, if the gates are not open yet... he might drive to right in front and wait for gates to open. This is the time to enjoy that coffee that your guide packed. If you understood beforehand that he only bring for himself, make sure you do not have the bad experience like John had on his first trip. Ann's mom have until today still not forgiven him for allowing the guide to sit and drink his coffee and she was left with the smell of the melting chocolate from his Romany Creams.

Do you plan to make your own meals "el fresco" at one of the designated picnic spots? Better to pack everything. There are shops and they also do rent gas equipment for making breakfasts, but you cannot book this in advance and it is "first come first serve". This would of course be none of your concern if you organised a trip with such breakfast included. In such a case your guide will supply and cook everything. You could of course also opt for a packed breakfast, either by yourselves or by your accommodation staff. John never opt for this as Ann's mom always demand the eggs to be blue-hard and it leaves the old guy with terrible hiccups for the rest of the day. To enjoy at least one of the days meals at one of the restaurants in the park might be a good idea as it gives everybody the change to stretch legs and have a change of scenery. Such occasions has its own game viewing opportunities as it is often on a riverbank or between high trees where birds like to gather.
Please do not forget the cameras and binoculars. Have the Blackberries and I-pods ready for that almost "live" posts done to Facebook. Tease your friends and make sure they get the information about your preferred service providers if you are happy with them. Make sure you have the books like "Newman's Birds By Colour", maps and other interesting books to keep the kids happy!
If you're in such strange territory and do not know where to start, do not despair. Send a mail to [email protected]. You could also visit the site marlothkruger.com for some accommodation possibilities.