Komati River Adventures
Posted on Thu September 14, 2023.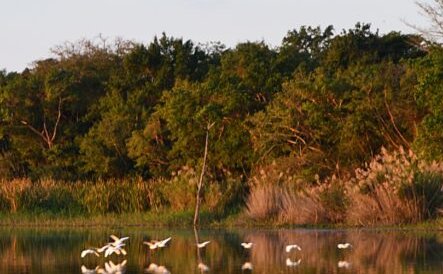 Looking for another wild adventure near Marloth Park? Well, let me introduce you to Stan and his fantastic barge on the Komati River. 🚤🐊The Komati comes all the way from Swaziland and is joined by the Crocodile just before it crosses the border to Mozambique. Unlike the Crocodile which forms the border between Marloth Park and the Kruger National park the Komati has got a good flow of water all year round. Being in a summer rainfall area  it tends to be at full capacity during the warmer months which is also the best time for tiger fishing. 
Imagine this: a stunning sunset cruise along the Komati River, where you can soak in the breathtaking views of the Lowveld. Stan's barge is not just any boat; it's a floating paradise where you can savor a delicious barbecue (braai, for the locals) and enjoy your favorite drinks as the African sun paints the sky in mesmerizing colors.
But that's not all! If you're up for some angling action, Stan's got you covered with tiger fishing. Don't worry about gear; he'll supply everything you need to reel in the big one. 🎣
Stan's sunset cruises and tiger fishing trips are a hit with tourists, and they can't stop raving about the experience. So, if you want to make the most of your Marloth Park adventure, swing by our office on the corner of Olifants and Ratel streets. We've got all the insider info and booking details to ensure you have a splashing good time on the Komati River with Stan.
Don't miss out on this unforgettable adventure - the river is calling, and the sunset awaits! See you at our office soon. 😎🌄