The Lions of Marloth Park.
Posted on Thu September 14, 2023.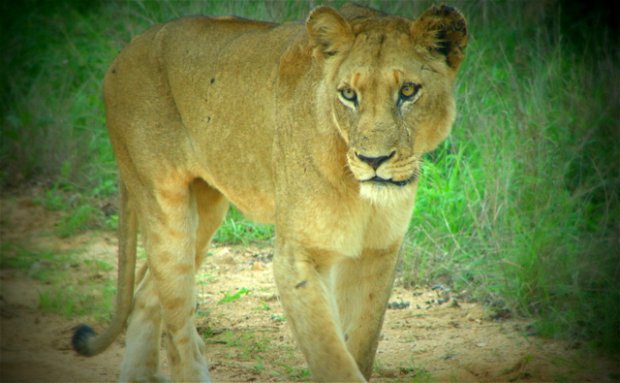 Let there be no misunderstanding. Compared to a many of the people around here, I am new to Marloth Park. We bought our first property, Khaya Umdani, back in 2007. That is when I've been introduced to Marloth. There are many of my friends, all "local" people, that have much more experience about living in the bush than me. They've been here long before the fence have been put up between Marloth Park and the Crocodile River.
Those guys will tell you stories about lions sleeping on their front porches. They have stories about pub crawlers that walked home through a pride of lions. There is even a tale about someone arriving here at his holiday home on a Friday night, spent the night sleeping in the car and left the next morning to find accommodation in Komatipoort because the lions would not leave their nice secluded spot in the shade of his veranda.
What I am about to tell you are things that happened long after the fence have been erected between Marloth Park and the Crocodile River. There are jokes doing the rounds about the fence being put up to keep the residents of Marloth out of Kruger rather than keeping the animals out of Marloth. Jokes aside... fact is that the reason I'm here is due to a lion attack on a human. I will tell you the story as Part one of my "Lions of Marloth Park" series of stories.
It started around the turn of the century. At that time we were living in Malmesbury, Western Cape. We went away for a weekend to camp in the Cederberg Mountains as we often did back then. When we came back on the Sunday evening and walked into our house the television was on as we left it on the Friday. The program that was close to being finished was 50/50. It is n environmental program that try to create awareness about the environment and conservation by focusing on modern development, people, conservation and wildlife.
As I entered my living room I caught the final words of the host about what has been featured for that evening. It was about a lion that attacked someone in the main road of a village in South Africa. According to the TV host, the people living in this village were "up in arms" and absolutely determent to convince goverment to erect a fence to keep the lions from threatening their lives.
It surely caught my attention, but since the program stopped right then the information was just too little to form any sort of a good opinion. Back then the internet was not as advanced as now. Maybe it was, but then it could be that I was simply not clued up enough to search for a more detailed version of the story. I found it hard ti believe that there was indeed a village in South Africa where lions roam free. Years went by.
During 2007 the "WEG" magazine (an Afrikaans traveling mag) had a forum on internet that my wife, Louise, and I chatted on. As it goes on such forums there are always people that try and entice others to tell about places that's worth a visit. One of the guys then asked the question: "If you ignore family, work, money, and all the other things that keep you tied to where you are..... where would you really want to live?"
The people came back with all sorts of interesting places. From the South Pole, Mauritius, Timbuktu, Hawaii, Cape Town, New York, Siberia and many more. Me, ... I just said that I do not know where it is, but I heard about this village in South Africa where a lion attacked someone in the main road. One of the guys (Derick Bekker from Pretoria with the forum alias of Rooibok) came back and said: "Umdani, (my forum alias back then) the place that you're looking for is Marloth Park.
After a few private messages I got the GPS co-ordinates. That was a Thursday. By the next Wednesday we flew back from Nelspruit with a signed purchase contract for a house which would later become Khaya Umdani. The house was not quite finished. One of the main shortfalls was the lack of a swimming pool. I met our new neighbor and asked him to recommend someone to build me a pool while I am in Cape Town. The guy that he recommended for the job was a Swazi guy by the name of Jonas Hlatswayo. I contacted Jonas and we agreed on the terms for building a pool. During the week when he started with the job I convinced Louise to fly up there and oversee the job.
On the first day there, I think it was a Wednesday, Jonas and his team were making good progress. Naturally I simply opened a beer and took a seat on the veranda, After a while Jonas approached me with a question: "Why does someone like you come from Cape Town and buy a holiday home here in Marloth?" So I told him the whole story about 50/50 and the lion attack and Rooibok's info.
Jonas took off his pants and showed me the scars. He gave me a detailed description about how he was attacked by a female lion back in 2000 while he was cycling along Olifant street on his way back from a soccer game. I will make a short post to detail Jonas' story. The article in 50/50 was about him!
Jonas survived this ordeal by shear luck. Right then a partnership was formed. Jonas and I built quite a few house together after we moved here permanently in 2012. Me doing the designs, communication with clients, calculating costs and him supplying the labour.
That was my first information about Marloth's lions. I will follow this up with many more stories about lion encounters in Marloth. Up to the very recent one about the cat that kept on coming back!!